Knossos Palace, Titakis Winery & Kazantzakis Museum Tour
Palace of Knossos (2 hours)
Crete's most famous historical attraction is the Palace of Knossos (k-nos-os), the grand capital of Minoan Crete, located 5km south of Iraklio. The setting is evocative and the ruins and re-creations impressive, incorporating an immense palace, courtyards, private apartments, baths, lively frescoes and more. Excavation of the site started in 1878 with Cretan archaeologist Minos Kalokerinos, and continued from 1900 to 1930 with British archaeologist Sir Arthur Evans who controversially restored parts of the site.
Knossos is the largest Bronze Age archaeological site in Crete and is considered Europe's oldest city. Follow our guide through the Palace of Knossos and travel back in a time to when the Minoan Civilization ruled supreme throughout the Aegean. Legend has it that in a labyrinth on the grounds of Knossos Palace roamed a creature that was half bull and half man. As you explore the stone corridors, you will quickly understand why the ancient people believed that this was where the legendary Minotaur lived.
Titakis Winery(1 hour)
Titakis Winery is located in Heraklion, the area of Crete with the most vineyards, and specifically in Kounavoi, at the very heart of the OPAP (Appellation of Origin of Superior Quality) wine region of Peza.
The modern and constantly evolving facilities occupy an area of approximately 4,000 m2 and are equipped with tanks with a capacity of 55,000 hl. There, the grapes are received and processed and our products are bottled.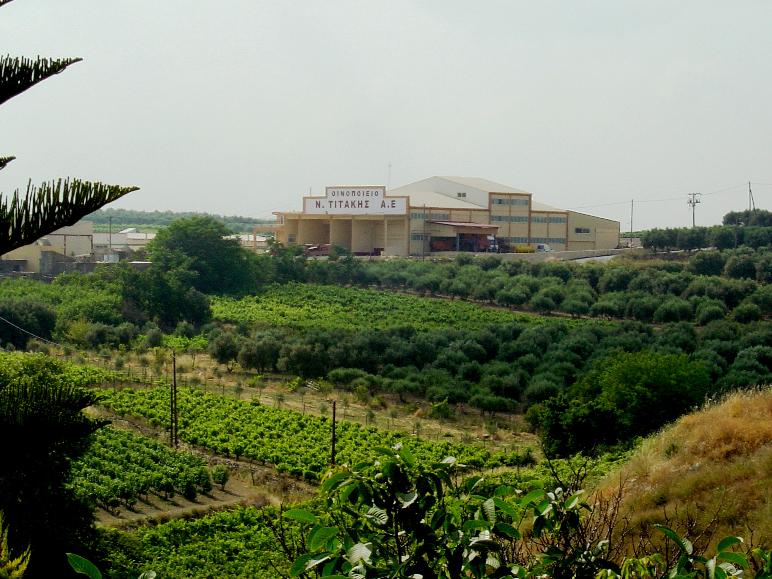 In one of the largest private wineries in Crete, Titakis Winery produces wines from varieties cultivated in our private vineyard, as well as those acquired through cooperation with more than a hundred producers in Heraklion. Titakis Winery highlights the richness and potential of the Cretan vineyards, offering quality wines in a wide range of packaging.
Titakis Winery provides a tasting room where you are welcome to taste the wines.
Nikos Kazantzakis Museum(1 hour)
The Nikos Kazantzakis Museum pays tribute to the important intellectual, author, thinker, philosopher, politician and traveller Nikos Kazantzakis.
The Museum is made up of a cluster of buildings in the central square of the historical village of Varvari, now known as Myrtia. The Museum Exhibition is housed on a site formerly occupied by the home of the Anemoyiannis family, which was related to Nikos Kazantzakis' father, Kapetan Michalis.
The Nikos Kazantzakis Museum has quite literally become a site of worldwide intellectual pilgrimage. Every day, visitors arrive from all four corners of the globe, bearing witness to the lasting relevancy of the word expressed by the great Cretan, universal author and thinker.
Tour details
Palace of Knossos (2 hours)
Titakis Winery(1 hour)
Nikos Kazantzakis Museum(1 hour)
Included:
Round-trip transportation from / to your hotel.
Certified English/German speaking driver.
Not Included:
Tips for guide and driver (non-compulsory).
Personal expenses during tour (drinks or food).
All entrance fees, all taxes.
Certified English/German speaking guide.
Duration: 4 Hours
Cost: 135 Euro
book now